Object Details
Description

The canister is metal with yellow lacquer coloring its external surface. The outside of the canister is covered with textual and illustrative designs in black ink printed on top of the yellow lacquer. The product name [WONDERFUL HAIR GROWER] is written in horizontal text across the center of the lid beneath an ink illustration of a black woman pictured from her shoulders up with her hair down. Beneath the product name are additional lines of text which read [NET CONTENTS 2 OZ/MADE BY/THE MADAM C.J. WALKER/MANUFACTURING CO./INDIANAPOLIS, IND./PRICE 50 CENTS]. Above the illustration and curved to the arc of the lid edge is the brand name of the product in black text [MADAM C. J. WALKERS/TRADE MARK REGISTERED].

Transcription Center Status

Transcribed by digital volunteers
See more items in

National Museum of African American History and Culture Collection

Classification

Adornment

Exhibition

Defending Freedom, Defining Freedom: The Era of Segregation, 1876-1968

On View

NMAAHC (1400 Constitution Ave NW), National Mall Location, Concourse 2, C 2053
Date

1910s - 1920s
Object number

2011.159.6
Credit Line

Collection of the Smithsonian National Museum of African American History and Culture, Gift from Dawn Simon Spears and Alvin Spears, Sr.
Manufactured by

Madam C.J. Walker Manufacturing Company, American, founded 1906

Subject of

Madam C.J. Walker, American, 1867 - 1919
Topic

African American
Business
Hair
Women
Place made

Indianapolis, Marion County, Indiana, United States, North and Central America
Medium

metal

Dimensions

Diameter: 2 3/4 × 13/16 in. (7 × 2.1 cm)
Data Source

National Museum of African American History and Culture
Restrictions & Rights

No Known Copyright Restrictions
Type

canisters
Record ID

nmaahc_2011.159.6
Metadata Usage

CC0
This image is in the public domain (free of copyright restrictions). You can copy, modify, and distribute this work without contacting the Smithsonian. For more information, visit the Smithsonian's
Open Access
page.
We also suggest that users:
Give attribution to the Smithsonian.
Contribute back any modifications or improvements.
Do not mislead others or misrepresent the datasets or its sources.
Be responsible.
International media Interoperability Framework
IIIF provides researchers rich metadata and media viewing options for comparison of works across cultural heritage collections. Visit the IIIF page to learn more.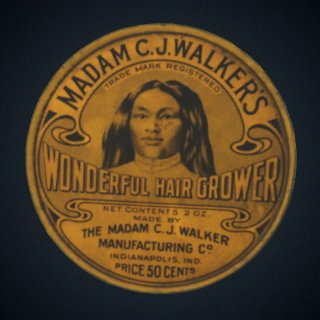 3D Model