Object Details
Exhibition Label

Born in the Waxhaw Settlement, South Carolina
Beginning with George Washington's administration, presidential portrait medals were created to promote peace and friendship between Euro-Americans and Native Americans. Typically manufactured at the U.S. Mint, these "peace medals" were most often given to Native American representatives during treaty negotiations. While some of the original intentions may have been good-willed, a number of government policies, particularly Andrew Jackson's Indian Removal Act, undermined the purpose of these medals.
Nacido en el Asentamiento de Waxhaw, Carolina del Sur
A partir de la administración de George Washington se comenzó la creación de medallas con retratos presidenciales para promover la paz y la amistad entre los estadounidenses de extracción europea y los nativos americanos. Producidas normalmente por la Casa de la Moneda de Estados Unidos, estas "medallas de paz" se obsequiaban por lo general a representantes indígenas durante la negociación de tratados. Aunque las intenciones originales fueran quizás benevolentes, varias de las políticas gubernamentales, sobre todo el Traslado Forzoso de los Indios promulgado por Andrew Jackson,
contradecían el propósito de estas medallas.
Date

1831-32; medal is inscribed 1829
Artist

Moritz Furst, Mar 1782 - after 1841
John Reich, 1768 - 1833

Sitter

Andrew Jackson, 15 Mar 1767 - 8 Jun 1845
Topic

Medal\Peace medal
Andrew Jackson: Male
Andrew Jackson: Law and Law Enforcement\Lawyer
Andrew Jackson: Military and Intelligence\Army\Officer\General
Andrew Jackson: Politics and Government\US Senator\Tennessee
Andrew Jackson: Politics and Government\President of US
Andrew Jackson: Politics and Government\US Congressman\Tennessee
Andrew Jackson: Law and Law Enforcement\Judge\Justice\State Supreme Court Justice\Tennessee
Andrew Jackson: Politics and Government\Governor\Florida
Andrew Jackson: Congressional Gold Medal
Portrait
See more items in

National Portrait Gallery Collection

Exhibition

America's Presidents (Reinstallation September 2017)

On View

NPG, South Gallery 240
Credit Line

National Portrait Gallery, Smithsonian Institution; gift of Betty A. and Lloyd G. Schermer
Data Source

National Portrait Gallery
Object number

NPG.99.112
Type

Medal
Restrictions & Rights

CC0
Medium

Silver

Dimensions

Diameter: 7.6cm (3")
Record ID

npg_NPG.99.112
Metadata Usage

CC0
This image is in the public domain (free of copyright restrictions). You can copy, modify, and distribute this work without contacting the Smithsonian. For more information, visit the Smithsonian's
Open Access
page.
We also suggest that users:
Give attribution to the Smithsonian.
Contribute back any modifications or improvements.
Do not mislead others or misrepresent the datasets or its sources.
Be responsible.
International media Interoperability Framework
IIIF provides researchers rich metadata and media viewing options for comparison of works across cultural heritage collections. Visit the IIIF page to learn more.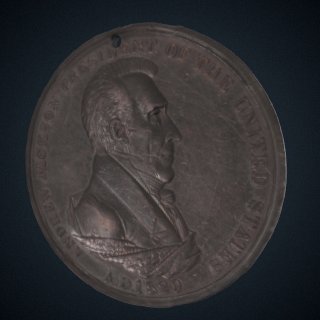 3D Model