Object Details
Description (Brief)

This guitar was made by Candelario Delgado in Los Angeles, California, in 1967. It is a custom-made guitar is of light wood with geometric pattern around sound hole and on bridge and head. Six strings with mother of pearl tuning pegs. There is a printed label:

Candelario Delgado
Fabricante de Guitarras Guitar Maker
Luthier
Concert Guitars
Classical and Flamenco
Made in U.S.A.
1066 SUNSET BLVD. - LOS ANGELES, CALIF.

(and handwritten inscription on label):

Construction Special for Jose Feliciano
1967
Candelario Delgado
"CANDELAS"

Jose Feliciano played this guitar on October 7, 1968 in Tiger Stadium in Detroit, Michigan during Game 5 of the World Series. He played a folk-inflected version of "The Star-Spangled Banner" which was immediately met with intense backlash.
date made

1967
user

Feliciano, Jose
place made

United States: California, Los Angeles
related event

World Series
See more items in

Culture and the Arts: Musical Instruments
Music & Musical Instruments
Popular Entertainment

Exhibition

Entertainment Nation

Exhibition Location

National Museum of American History
Credit Line

Gift of Jose Feliciano
Data Source

National Museum of American History
ID Number

2018.0136.01

accession number

2018.0136

catalog number

2018.0136.01
Object Name

guitar
Physical Description

wood (overall material)
metal (overall material)
brass; metal; organic material (unspecified); wood; varnish; paper (overall material)

Measurements

overall: 40 in x 15 1/2 in x 4 in; 101.6 cm x 39.37 cm x 10.16 cm
Record ID

nmah_1892964
Metadata Usage

CC0
There are restrictions for re-using this image. For more information, visit the Smithsonian's
Terms of Use
page .
These files consist of 3D scans of historical objects in the collections of the Smithsonian and may be downloaded by you only for non-commercial, educational, and personal uses subject to this disclaimer (https://3d.si.edu/disclaimer) and in accordance with the Terms of Use (https://3d.si.edu/termsofuse).
International media Interoperability Framework
IIIF provides researchers rich metadata and media viewing options for comparison of works across cultural heritage collections. Visit the IIIF page to learn more.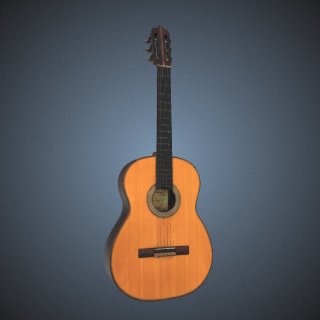 3D Model