Object Details
Description

This pair of white ankle-length platform boots are part of a costume worn by Carl Hall as the Wizard in the broadway musical "The Wiz: The Super Soul Musical 'Wonderful Wizard of Oz'" on Broadway. The boots are made from leather that is painted white. They have a rounded toe and a decorative seam along the top of the toe box that extends up the front of the ankle. The boots close at the inner side of each ankle with a metal zipper that has a long shoe string knotted as a pull tab. The wooden platforms are also painted white, with the foot platform measuring 1 1/2 inches and the heel platform measuring 3 inches. Black rubber non-skid soles are adhered to the bottoms of each platform. The word "Wiz" is handwritten in black ink on the bottom of the rubber sole of the foot on both boots. "Hall" is handwritten in purple ink on the arch of the sole of both boots.
Date

ca. 1977
Designed by

Geoffrey Holder, Trinidadian American, 1930 - 2014

Created by

Grace Costumes Inc., American, founded 1961

Worn by

Carl Hall, American, died 1999

Subject of

Black Fashion Museum, American, 1979 - 2007
Place used

New York City, Manhattan, New York, United States, North and Central America
Topic

African American
Actors
Clothing and dress
Costume
Costume design
Design
Musical Theatre
See more items in

National Museum of African American History and Culture Collection

Collection title

Black Fashion Museum Collection

Classification

Clothing-Costume
Credit Line

Collection of the Smithsonian National Museum of African American History and Culture, Gift of the Black Fashion Museum founded by Lois K. Alexander-Lane
Data Source

National Museum of African American History and Culture
Object number

2007.3.8.4ab
Type

boots
Restrictions & Rights

No Known Copyright Restrictions
Proper usage is the responsibility of the user.
Medium

leather, wood, paint, and metal

Dimensions

H x W x D (left (a)): 10 1/2 × 3 1/2 × 11 in. (26.7 × 8.9 × 27.9 cm)
H x W x D (right (b)): 10 1/2 × 3 1/2 × 11 in. (26.7 × 8.9 × 27.9 cm)
Record ID

nmaahc_2007.3.8.4ab
Metadata Usage

CC0
This image is in the public domain (free of copyright restrictions). You can copy, modify, and distribute this work without contacting the Smithsonian. For more information, visit the Smithsonian's
Open Access
page.
We also suggest that users:
Give attribution to the Smithsonian.
Contribute back any modifications or improvements.
Do not mislead others or misrepresent the datasets or its sources.
Be responsible.
International media Interoperability Framework
IIIF provides researchers rich metadata and media viewing options for comparison of works across cultural heritage collections. Visit the IIIF page to learn more.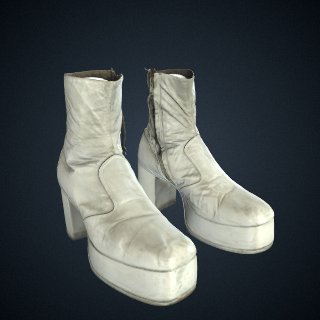 3D Model