Object Details
Description

This dashiki, a garment with West African origins and associations, was made and worn by Fath Davis Ruffins. Born in 1954 in Washington, DC and raised in the city, Ruffins was educated at Radcliffe (BA) and Harvard for doctoral work and has been a curator the National Museum of American History since 1981. She made the garment herself in 1970 when she was 16. Derived from a Yoruba word, a dashiki is a loose-fitting, colorful tunic that was initially worn chiefly by men in West Africa but adopted in the U.S. by men and women alike, worn with either pants, a skirt, or matching headwrap (headwrap is not pictured here). During the late 1960s dashikis became popular in the United States because of young people who wanted to signal their connection with African cultures, Pan-African and Black Power movements.
See more items in

Cultural and Community Life: Costume
Clothing & Accessories

Exhibition

Girlhood

Exhibition Location

National Museum of American History
Date made

1970
ID Number

1984.0826.02

accession number

1984.0826

catalog number

1984.0826.02
Credit Line

Gift of Fath Davis Ruffins
subject

Women's History
Black power—United States
African Americans--Civil rights
African American women
Measurements

overall, mounted: 31 1/2 in x 22 in x 13 in; 80.01 cm x 55.88 cm x 33.02 cm
part, dress, flat: 31 in x 33 in; 78.74 cm x 83.82 cm
Data Source

National Museum of American History
Object Name

Dress, 2-Piece

Other Terms

Dress, 2-Piece; Entire Body; Main Dress; Female
Record ID

nmah_373625
Metadata Usage

CC0
There are restrictions for re-using this image. For more information, visit the Smithsonian's
Terms of Use
page .
These files consist of 3D scans of historical objects in the collections of the Smithsonian and may be downloaded by you only for non-commercial, educational, and personal uses subject to this disclaimer (https://3d.si.edu/disclaimer) and in accordance with the Terms of Use (https://3d.si.edu/termsofuse).
International media Interoperability Framework
IIIF provides researchers rich metadata and media viewing options for comparison of works across cultural heritage collections. Visit the IIIF page to learn more.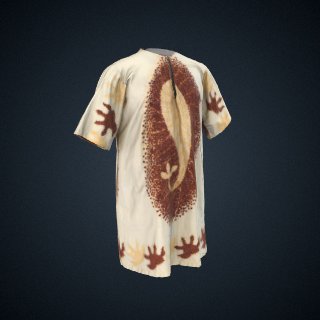 3D Model