Object Details
Description

The Gunboat Philadelphia, which was sunk by the British during the Battle of Lake Champlain in October 1776, was raised by Colonel Lorenzo Hagglund in 1935. It was exhibited in subsequent years at various points around Lake Champlain. In Hagglund's will, the boat was left to the Smithsonian, and installed in the soon to be opened Museum of History and Technology in 1964. Interesting note: the boat was installed on the east side of the third floor of the museum, before the exterior wall was put in place.
See more items in

Political and Military History: Armed Forces History, Naval

Exhibition

Gunboat Philadelphia

Exhibition Location

National Museum of American History
associated date

1776
ID Number

AF.58888-N(1)

catalog number

58888-N(1)

accession number

229338
Physical Description

wood (overall material)
Data Source

National Museum of American History
Object Name

Ship
boat

Other Terms

Ship; Gunboat; Gondola
Record ID

nmah_463506
Metadata Usage

CC0
There are restrictions for re-using this image. For more information, visit the Smithsonian's
Terms of Use
page .
These files consist of 3D scans of historical objects in the collections of the Smithsonian and may be downloaded by you only for non-commercial, educational, and personal uses subject to this disclaimer (https://3d.si.edu/disclaimer) and in accordance with the Terms of Use (https://3d.si.edu/termsofuse).
International media Interoperability Framework
IIIF provides researchers rich metadata and media viewing options for comparison of works across cultural heritage collections. Visit the IIIF page to learn more.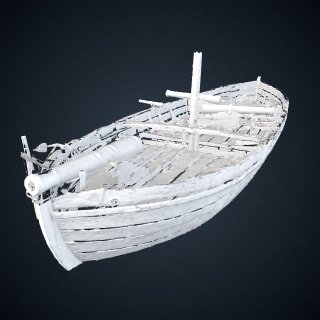 3D Model