Object Details
Record Last Modified

29 Mar 2017

Specimen Count

1
Collection Date

1838 to 1842
Expedition

U.S. Exploring Expedition

Ocean/Sea/Gulf

South Pacific Ocean
Place

Fiji, South Pacific Ocean
See more items in

Invertebrate Zoology
Cnidaria
Published Name

Manopora scabricula Dana, 1846
Montipora scabricula (Dana)
Data Source

NMNH - Invertebrate Zoology Dept.
USNM Number

318
Type Citation

Dana. 1846. Zoophytes. 7: 502-503, pl.46, fig.3.

Type Status

Syntype
Preparation

Dry
Record ID

nmnhinvertebratezoology_17355
Metadata Usage

CC0
This image is in the public domain (free of copyright restrictions). You can copy, modify, and distribute this work without contacting the Smithsonian. For more information, visit the Smithsonian's
Open Access
page.
We also suggest that users:
Give attribution to the Smithsonian.
Contribute back any modifications or improvements.
Do not mislead others or misrepresent the datasets or its sources.
Be responsible.
International media Interoperability Framework
IIIF provides researchers rich metadata and media viewing options for comparison of works across cultural heritage collections. Visit the IIIF page to learn more.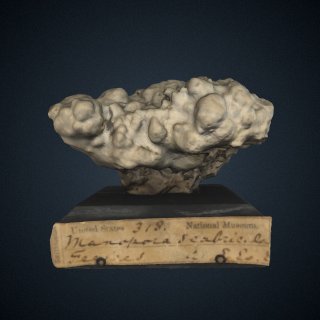 3D Model