Object Details
Geologic Age

Mesozoic - Triassic - Upper/Late

Record Last Modified

2 Feb 2023

Stratigraphy

Chinle Fm
Place

Apache County, Arizona, United States, North America
See more items in

Paleogeneral
Types: Other Macroinvertebrate
Ichnofossil and Incertae Sedis Type and Biologic
Paleobiology
Published Name

Paleoscolytus divergus Walker
Data Source

NMNH - Paleobiology Dept.
USNM Number

PAL95872
Type Citation

Walker. 1938 --/--. U.S.Natl.Mus.Proc. 85 (n.3033): 139, pl.3a.

Type Status

holotype
Taxonomy

Animalia Ichnofossil
Record ID

nmnhpaleobiology_3302895
Metadata Usage

CC0
There are restrictions for re-using this image. For more information, visit the Smithsonian's
Terms of Use
page .
These files consist of 3D scans of historical objects in the collections of the Smithsonian and may be downloaded by you only for non-commercial, educational, and personal uses subject to this disclaimer (https://3d.si.edu/disclaimer) and in accordance with the Terms of Use (https://3d.si.edu/termsofuse).
International media Interoperability Framework
IIIF provides researchers rich metadata and media viewing options for comparison of works across cultural heritage collections. Visit the IIIF page to learn more.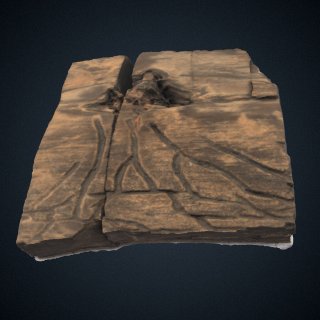 3D Model