Object Details
Caption

This small, improvised boat, or chug, held two Cuban men bound for a better life in the United States in July 1992. Built in secret out of scavenged materials, stacked styrofoam planks held together with tar were carved into the shape of a boat and placed on a wooden frame. The chug's exterior then received a tar coating and tarred cloth covered the hull for further protection against both water and shark penetration. Wired-on wooden oar rests remain atop the port and starboard sides, though the oars, like the one-time mast, are absent. Underneath, a metal pipe with a rotor suggests another past presence: a propeller. Inside the chug, what might once have been a vinyl shower curtain covers bench seats and a footwell. After being spotted from the air by pilots with the nonprofit Hermanos al Rescate (Brothers to the Rescue), the US Coast Guard picked up the balseros 35 miles off the coast of Miami, Florida. The balseros, or rafters, named for the balsa wood some used to craft rafts, included tens of thousands fleeing Cuba by boat, raft, or inner tube in the early 1990s. This chug was on display as part of the Anacostia Community Museum's exhibit, Black Mosaic: Community, Race and Ethnicity among Black Immigrants in Washington, DC from August 1994 to September 1995.
Date

ca. 1992
Subject

Hermanos Al Rescate
See more items in

Anacostia Community Museum Collection
Cite As

Gift of Humberto Sanchez
Data Source

Anacostia Community Museum
Accession Number

1996.0008.0001
Type

raft
Restrictions & Rights

Usage conditions apply
Medium

styrofoam (polystyrene foam), tar, cloth, rope, wood, plastic

Dimensions

24 × 36 × 79 in. (61 × 91.4 × 200.7 cm)
Record ID

acm_1996.0008.0001
Metadata Usage

Usage conditions apply
There are restrictions for re-using this image. For more information, visit the Smithsonian's
Terms of Use
page .
These files consist of 3D scans of historical objects in the collections of the Smithsonian and may be downloaded by you only for non-commercial, educational, and personal uses subject to this disclaimer (https://3d.si.edu/disclaimer) and in accordance with the Terms of Use (https://3d.si.edu/termsofuse).
International media Interoperability Framework
IIIF provides researchers rich metadata and media viewing options for comparison of works across cultural heritage collections. Visit the IIIF page to learn more.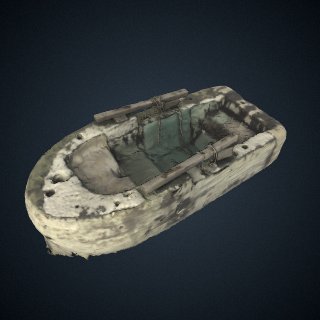 3D Model