Object Details
Description (Brief)

Batting helmet worn by Pittsburgh Pirates outfielder Roberto Clemente (1934 - 1972.) Born in Puerto Rico, Clemente began his 18-year tenure with the Pirates in 1955. During his career he was a 15-time All-Star at his position, winning 12 Gold Gloves, 4 batting titles, and a National League Most Valuable Player award (1966.)
In 1972, Clemente died in a plane crash delivering charitable aid to Nicaraguan earthquake victims. The following year, he became the first player from Latin America inducted into the National Baseball Hall of Fame.
See more items in

Cultural and Community Life: Sport and Leisure
Highlights from the Culture and the Arts Collection
date made

ca 1960
ID Number

1981.0706.06

catalog number

1981.0706.06

accession number

1981.0706
user

Clemente, Roberto

associated institution

Pittsburgh Pirates

maker

American Baseball Cap Inc.
subject

Baseball
Sports
Professional
Major League
place made

United States: Pennsylvania, Pittsburgh
Physical Description

paint (overall material)
DELETE (overall material)
textile (overall material)
adhesive (overall material)
fiberglass (overall material)

Measurements

overall: 5 1/4 in x 7 1/4 in x 11 in; 13.335 cm x 18.415 cm x 27.94 cm
Data Source

National Museum of American History
Object Name

helmet
helmet, baseball
Record ID

nmah_688775
Metadata Usage

CC0
This image is in the public domain (free of copyright restrictions). You can copy, modify, and distribute this work without contacting the Smithsonian. For more information, visit the Smithsonian's
Open Access
page.
We also suggest that users:
Give attribution to the Smithsonian.
Contribute back any modifications or improvements.
Do not mislead others or misrepresent the datasets or its sources.
Be responsible.
International media Interoperability Framework
IIIF provides researchers rich metadata and media viewing options for comparison of works across cultural heritage collections. Visit the IIIF page to learn more.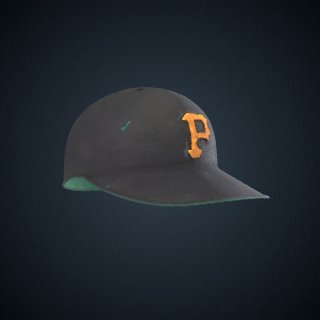 3D Model