Object Details
Exhibition Label

Abraham Lincoln 1809–1865
Born Hardin County, Kentucky
Soon after Abraham Lincoln won the Republican presidential nomination, in May of 1860, sculptor Leonard Wells Volk made casts of Lincoln's hands. The right hand is shown grasping a sawed-off section of a broom handle, which Lincoln obligingly fetched from a shed when the artist suggested that he hold on to something. Lincoln smoothed the edges of the wood, reportedly saying, "I thought I would like to have it nice." During their session, Volk was already thinking of using these casts, in combination with his recently completed Lincoln bust, to fashion a full-length statue.
Nacido en el condado de Hardin, Kentucky
Poco después de que Abraham Lincoln obtuviera la nominación a la presidencia por el Partido Republicano, en mayo de 1860, el escultor Leonard Wells Volk hizo moldes de sus manos. La mano derecha aparece agarrando un trozo del mango de una escoba que Lincoln tuvo la gentileza de buscar en un cobertizo cuando el artista sugirió que sujetara algo. Cuando Lincoln empezó a lijar los bordes del trozo de madera, Lincoln contestó: "Pensé que me gustaría más pulido". Ya durante la sesión Volk estaba planeando utilizar estos moldes, en combinación con el busto de Lincoln recién terminado, para construer una estatua de cuerpo entero.
Date

c. 1917 cast after 1860 original
Cast after

Leonard Wells Volk, 1828 - 1895

Sitter

Abraham Lincoln, 12 Feb 1809 - 15 Apr 1865
Topic

Abraham Lincoln: Male
Abraham Lincoln: Law and Law Enforcement\Lawyer
Abraham Lincoln: Military and Intelligence\Soldier
Abraham Lincoln: Politics and Government\President of US
Abraham Lincoln: Society and Social Change\Reformer\Environmentalist
Abraham Lincoln: Business and Finance\Businessperson\Merchant
Abraham Lincoln: Politics and Government\US Congressman\Illinois
Abraham Lincoln: Politics and Government\Government official\Surveyor
Abraham Lincoln: Politics and Government\State Senator\Illinois
Abraham Lincoln: Politics and Government\Government official\Postmaster
Abraham Lincoln: Crafts and Trades\Boat builder
Portrait
See more items in

National Portrait Gallery Collection

Exhibition

America's Presidents (Reinstallation September 2017)

On View

NPG, West Gallery 240
Credit Line

National Portrait Gallery, Smithsonian Institution; transfer from the National Museum of American History
Data Source

National Portrait Gallery
Object number

S/NPG.71.6
Type

Sculpture
Restrictions & Rights

CC0
Medium

Plaster

Dimensions

Proper Left: 7.6 x 11.1 x 17.8cm (3 x 4 3/8 x 7")
Proper Right: 8.9 x 12.7 x 15.2cm (3 1/2 x 5 x 6")
Record ID

npg_S_NPG.71.6
Metadata Usage

CC0
This image is in the public domain (free of copyright restrictions). You can copy, modify, and distribute this work without contacting the Smithsonian. For more information, visit the Smithsonian's
Open Access
page.
We also suggest that users:
Give attribution to the Smithsonian.
Contribute back any modifications or improvements.
Do not mislead others or misrepresent the datasets or its sources.
Be responsible.
International media Interoperability Framework
IIIF provides researchers rich metadata and media viewing options for comparison of works across cultural heritage collections. Visit the IIIF page to learn more.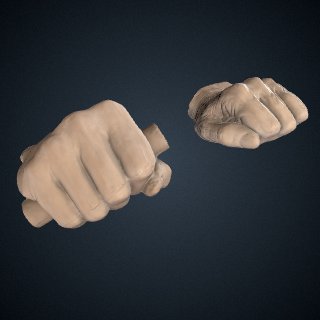 3D Model