Object Details
Description

Alexander Graham Bell demonstrated several experimental telephones at the Philadelphia Centennial Exposition in 1876. This unit features a single electro-magnet and could be used both as transmitter and receiver. Bell approached the problem of transmitting speech differently from other telephone inventors like Elisha Gray and Thomas Edison. They were mostly experienced telegraphers trying to make a better telegraph. Bell's study of hearing and speech more strongly influenced his work.
date made

1876
maker

Bell, Alexander G.
See more items in

Work and Industry: Electricity
Communications
Computers & Business Machines
American Enterprise
Artifact Walls exhibit

Exhibition

American Enterprise

Exhibition Location

National Museum of American History
Related Publication

Sewer, Andy; Allison, David; Liebhold, Peter; Davis, Nancy; Franz, Kathleen G.. American Enterprise: A History of Business in America
Data Source

National Museum of American History
ID Number

EM.252599

accession number

49064

catalog number

252599

patent number

174465
Object Name

experimental telephone
telephone
Physical Description

wood (base material)
brass (posts material)
tin (mouthpiece material)
brass (brackets material)

Measurements

overall: 6 1/2 in x 5 in x 11 in; 16.51 cm x 12.7 cm x 27.94 cm
Record ID

nmah_689864
Metadata Usage

CC0
There are restrictions for re-using this image. For more information, visit the Smithsonian's
Terms of Use
page .
These files consist of 3D scans of historical objects in the collections of the Smithsonian and may be downloaded by you only for non-commercial, educational, and personal uses subject to this disclaimer (https://3d.si.edu/disclaimer) and in accordance with the Terms of Use (https://3d.si.edu/termsofuse).
International media Interoperability Framework
IIIF provides researchers rich metadata and media viewing options for comparison of works across cultural heritage collections. Visit the IIIF page to learn more.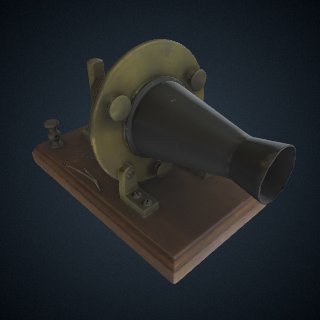 3D Model