Object Details
Description

Autographed baseball signed by the 1953 Chicago White Sox. That season, the White Sox finished 89-65, 3rd in the American League.
Autographs include Nelson Fox; Bob Elliott; Ferris Fain; Chico Carrasquel; Bob Elliot; Sam Mele; Jim Rivera; Minnie Minoso; Sherm Lollar; Bob Boyd; Red Wilson; Tom Wright; Billy Pierce; Virgil Trucks; Mike Fornieles; Fritz Dorish; Saul Rogovin; Sandy Consuegra; Joe Dobson; Bob Keegan.
See more items in

Cultural and Community Life: Sport and Leisure
Sports & Leisure
Autographed Baseballs

Exhibition

¡Pleibol!

Exhibition Location

National Museum of American History
date made

1953
ID Number

CL.310547.119

accession number

310547

catalog number

310547.119
associated institution

Chicago White Sox

maker

Zacko's
subject

Baseball
place made

United States: Pennsylvania, Pottsville
Physical Description

leather (overall material)
cork (overall material)
yarn (overall material)

Measurements

overall: 3 in; 7.62 cm
Data Source

National Museum of American History
Object Name

baseball
autographed baseball
baseball, autographed
Record ID

nmah_1299584
Metadata Usage

CC0
There are restrictions for re-using this image. For more information, visit the Smithsonian's
Terms of Use
page .
These files consist of 3D scans of historical objects in the collections of the Smithsonian and may be downloaded by you only for non-commercial, educational, and personal uses subject to this disclaimer (https://3d.si.edu/disclaimer) and in accordance with the Terms of Use (https://3d.si.edu/termsofuse).
International media Interoperability Framework
IIIF provides researchers rich metadata and media viewing options for comparison of works across cultural heritage collections. Visit the IIIF page to learn more.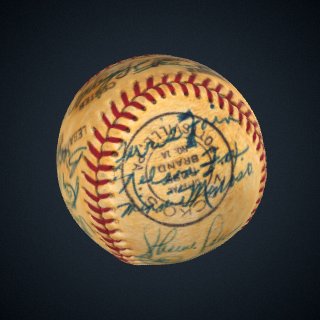 3D Model