Object Details
Description

Baseball covered in white adhesive tape with a nail inserted through the center. The ball is marked "FOR THE SMITHSONNIAN [sic] MUSEUM - 6 - 4 - 93." Accessioned with a baseball diamond diagram with names of baseball players and marked "HAVANA CUBA, 1946 to 1956."
See more items in

Cultural and Community Life: Sport and Leisure
Sports & Leisure

Exhibition

¡Pleibol!

Exhibition Location

National Museum of American History
ID Number

1995.0330.01

catalog number

1995.0330.01

accession number

1995.0330
Credit Line

Pedro M. Chavez
subject

Baseball
Physical Description

rubber (overall material)
leather (overall material)
cork (overall material)

Measurements

overall: 7.3 cm; 2 7/8 in
Data Source

National Museum of American History
Object Name

baseball
Record ID

nmah_1176044
Metadata Usage

CC0
This image is in the public domain (free of copyright restrictions). You can copy, modify, and distribute this work without contacting the Smithsonian. For more information, visit the Smithsonian's
Open Access
page.
We also suggest that users:
Give attribution to the Smithsonian.
Contribute back any modifications or improvements.
Do not mislead others or misrepresent the datasets or its sources.
Be responsible.
International media Interoperability Framework
IIIF provides researchers rich metadata and media viewing options for comparison of works across cultural heritage collections. Visit the IIIF page to learn more.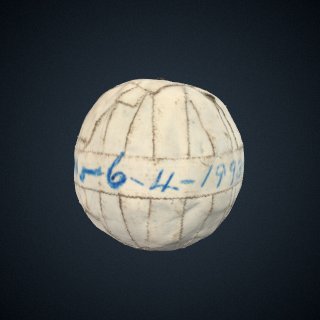 3D Model