Object Details
Description

Sarah Leavitt's Bat Mitzvah, Madison, Wisconsin, 1983
Religious communities have long played a role in defining the transition from girlhood to womanhood with rites of passage. Yet, girls take on these traditions and remake them in different ways.
In the synagogue, a thirteen-year-old boy becomes a man at his Bar Mitzvah. But no comparable ceremony sanctified girls' coming of age until 1922, when a New York rabbi invented Bat Mitzvah for his daughter. By the late 1900s, Jewish girls had claimed the millennia-old ritual known as the Bar Mitzvah for themselves.
Sarah Leavitt grew up in Madison, where she celebrated her Bat Mitzvah at Temple Beth El. Both the boys and girls in her class took on the responsibilities of being a Jewish adult at age 13. However, the girls did not wear the traditional prayer shawl (tallit) or head covering, (yarmulke) that were still, then, only worn by the boys.
Bat Mitzvah's often meant a new dress and a party. Reminiscent of Victorian romance, this Gunne Sax dress was all the rage in the early 1980s.
See more items in

Work and Industry: Work

Exhibition

Girlhood

Exhibition Location

National Museum of American History
ID Number

2018.0254.1

accession number

2018.0254

catalog number

2018.0254.1
Physical Description

textile (overall material)

Measurements

overall, flat: 88 cm x 65 cm x 1 cm; 34 21/32 in x 25 19/32 in x 13/32 in
overall, mounted: 30 1/2 in x 17 in x 13 in; 77.47 cm x 43.18 cm x 33.02 cm
Data Source

National Museum of American History
Object Name

dress
Record ID

nmah_1900832
Metadata Usage

CC0
There are restrictions for re-using this image. For more information, visit the Smithsonian's
Terms of Use
page .
These files consist of 3D scans of historical objects in the collections of the Smithsonian and may be downloaded by you only for non-commercial, educational, and personal uses subject to this disclaimer (https://3d.si.edu/disclaimer) and in accordance with the Terms of Use (https://3d.si.edu/termsofuse).
International media Interoperability Framework
IIIF provides researchers rich metadata and media viewing options for comparison of works across cultural heritage collections. Visit the IIIF page to learn more.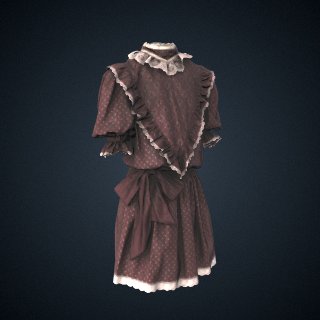 3D Model