Object Details
Previous custodian or owner

Taku Shanfang

Provenance

To 1923
Taku Shanfang, Beijing to 1923 [1]
From 1923
Freer Gallery of Art, purchased from Taku Shanfang, Beijing by Carl Whiting Bishop on December 24, 1923 [2]
Notes:
[1] Object file, folder sheet note #1.
[2] See note 1. Also see Original Bishop List, No. S-9, Freer Gallery of Art and Arthur M. Sackler Gallery Archives.
Date

550-577

Period

Northern Qi dynasty
Origin

probably Henan province, China
Topic

Buddhism
Buddha
Sui dynasty (581 - 618)
naga
hell
heaven
China
Vairocana Buddha
Mount Meru
Lotus Sutra
Chinese Art
Carl Whiting Bishop collection
Related Online Resources

Google Cultural Institute

See more items in

Freer Gallery of Art and Arthur M. Sackler Gallery Collection

On View

Freer Gallery 17: Promise of Paradise
Credit Line

Purchase — Charles Lang Freer Endowment
Data Source

Freer Gallery of Art and Arthur M. Sackler Gallery
Accession Number

F1923.15
Type

Sculpture
Restrictions & Rights

CC0
Medium

Limestone

Dimensions

H x W x D: 151.3 x 62.9 x 31.3 cm (59 9/16 x 24 3/4 x 12 5/16 in)
Weight (without concrete base): 818.5 pounds
Record ID

fsg_F1923.15
Metadata Usage

CC0
This image is in the public domain (free of copyright restrictions). You can copy, modify, and distribute this work without contacting the Smithsonian. For more information, visit the Smithsonian's
Open Access
page.
We also suggest that users:
Give attribution to the Smithsonian.
Contribute back any modifications or improvements.
Do not mislead others or misrepresent the datasets or its sources.
Be responsible.
International media Interoperability Framework
IIIF provides researchers rich metadata and media viewing options for comparison of works across cultural heritage collections. Visit the IIIF page to learn more.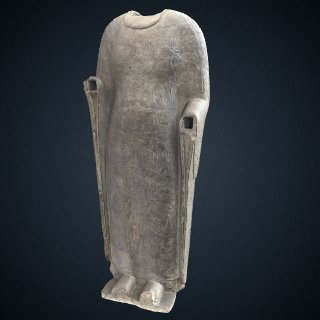 3D Model