Object Details
Description

A round sweetgrass basket (a) with lid (b) sewn by Sue Middleton. The basket is made of coils of dried sweetgrass bound with strips of dried palmetto, with pine needles sewn in for color. The base of the basket has a flat bottom, with pine needles creating a darker circle in the middle of the base. Rising up from the base are straight sides with one coil of sweetgrass sewn in around the exterior of the basket in a decorative pattern that rises up straight from the base, runs along the top for several inches, then straight back down to the base, follows along the base for several inches, and then repeats. Behind the decorative coil is a band of darker pine needles. Above the deorative coil, the sides of the basket begin to slope inward, forming a narrower mouth for the lid to fit over. The round lid has a small knob handle in the center and then slopes slightly down, with a small lip extending down to fit over the mouth of the basket. The handle has pine needles woven in and around, with a decorative knot in the very top and five decorative knots dispersed evenly around the base of the handle. There is a band of pine needles around the edge of the basket lid.
Date

early 1980s
Attributed to

Sue Middleton, American, born 1934
Place made

Mount Pleasant, Charleston County, South Carolina, United States, North and Central America
Topic

African American
American South
Communities
Craftsmanship
Design
Domestic life
Folklife
See more items in

National Museum of African American History and Culture Collection

Classification

Decorative Arts, Craft, and Design
Credit Line

Collection of the Smithsonian National Museum of African American History and Culture, Gift of Richard E. Ahlborn
Data Source

National Museum of African American History and Culture
Object number

2007.5.1ab
Type

baskets
Restrictions & Rights

No Known Copyright Restrictions
Proper usage is the responsibility of the user.
Medium

sweetgrass, pine needles, and palmetto

Dimensions

7 x 6 1/2 x 6 1/2 in. (17.8 x 16.5 x 16.5 cm)
Record ID

nmaahc_2007.5.1ab
Metadata Usage

CC0
There are restrictions for re-using this image. For more information, visit the Smithsonian's
Terms of Use
page .
These files consist of 3D scans of historical objects in the collections of the Smithsonian and may be downloaded by you only for non-commercial, educational, and personal uses subject to this disclaimer (https://3d.si.edu/disclaimer) and in accordance with the Terms of Use (https://3d.si.edu/termsofuse).
International media Interoperability Framework
IIIF provides researchers rich metadata and media viewing options for comparison of works across cultural heritage collections. Visit the IIIF page to learn more.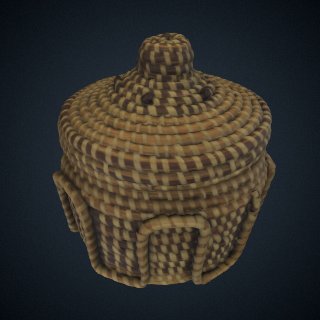 3D Model