Object Details
Description

A Colonoware ceramic pot from Cooper River, Charleston County, SC (c. 1700-1800). The unglazed vessel has a rounded body with a rounded base. The vessel has a slightly flared lip and a narrowed neck. The top half of the vessel is discolored with dark stains and the bottom is sandy brown. There are orange brown discolorations also along the bottom. Two (2) sides of the vessel are discolored with dark gray to black stains. The vessel is broken into several large pieces and has been cross mended. The base has been repaired with dark painted plaster. The exterior body of the vessel is decorated with a single band of stippling around the neck and a repeating pattern of two (2) or three (3) irregular, vertical stippled lines running down the body. There are also three (3) geometric shapes outlined in stippling. The body is also decorated with circular marks of varying sizes. The interior lip of the vessel is decorated with a band of stippling and a pattern of two (2) and three (3) vertical stippled lines running from the top of the interior lip down to the neck as well as dark, irregular circular marks. The bottom of the vessel has white paint marks. The lip has several cracks and four (4) small and one (1) medium areas of loss.
Date

18th century
Manufactured by

Unidentified

Owned by

Acacia Historical Arts International, Inc., American, founded 1989
Place made

Charleston County, South Carolina, United States, North and Central America
Topic

African American
American South
Cooking and dining
Craftsmanship
Design
Domestic life
Folklife
Foodways
Skilled labor
Slavery
See more items in

National Museum of African American History and Culture Collection

Classification

Slavery and Freedom Objects
Decorative Arts, Craft, and Design
Credit Line

Collection of the Smithsonian National Museum of African American History and Culture
Data Source

National Museum of African American History and Culture
Object number

2017.108.1.1
Type

pottery
Restrictions & Rights

Public domain
Medium

clay , glue , plaster of Paris and paint

Dimensions

H x W: 9 1/16 × 10 1/2 in. (23 × 26.7 cm)
Diameter: 10 1/2 in. (26.7 cm)
Record ID

nmaahc_2017.108.1.1
Metadata Usage

CC0
This image is in the public domain (free of copyright restrictions). You can copy, modify, and distribute this work without contacting the Smithsonian. For more information, visit the Smithsonian's
Open Access
page.
We also suggest that users:
Give attribution to the Smithsonian.
Contribute back any modifications or improvements.
Do not mislead others or misrepresent the datasets or its sources.
Be responsible.
International media Interoperability Framework
IIIF provides researchers rich metadata and media viewing options for comparison of works across cultural heritage collections. Visit the IIIF page to learn more.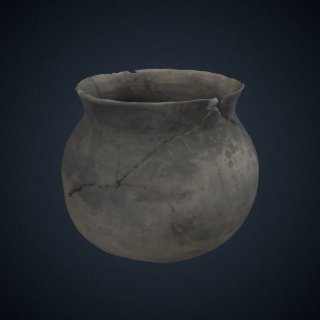 3D Model