Object Details
Description

Light brown egg carton for one dozen eggs. Top left of carton lid has black and white image of a farm printed on it. Superimposed over it is a yellow circle with black border and letters is in center of farm image. "YOUR/BRAND/EGGS." On top right side of carton list are black letters "GRADE A LARGE/ EGGS/ PACKED BY MUSLIM FARMS, INC/ KRT#3 CASSOPOLIS, MICHIGAN 49031/ ONE DOZEN/ FROM THE MUSLIM FARMS." The last line is highlighted in bright yellow. "70 Cents" is stamped on the carton in blue ink.
Date

1968
Manufactured by

Muslim Farms, Inc., American

Used by

Nation of Islam, American, founded 1930
Place used

Cassopolis, Cass County, Michigan, United States, North and Central America
Topic

African American
Agriculture
Black Enterprise
Business
Communities
Cooking and dining
Nation of Islam
Religion
Resistance
See more items in

National Museum of African American History and Culture Collection

Classification

Memorabilia and Ephemera
Credit Line

Collection of the Smithsonian National Museum of African American History and Culture, Gift of the family of Becca Nu'Mani
Data Source

National Museum of African American History and Culture
Object number

2013.39.7
Type

egg baskets
Restrictions & Rights

No Known Copyright Restrictions
Proper usage is the responsibility of the user.
Medium

ink on cardboard

Dimensions

H x W: 2 1/2 x 11 1/8 x 3 3/4 in. (6.4 x 28.3 x 9.5 cm)
Record ID

nmaahc_2013.39.7
Metadata Usage

CC0
This image is in the public domain (free of copyright restrictions). You can copy, modify, and distribute this work without contacting the Smithsonian. For more information, visit the Smithsonian's
Open Access
page.
We also suggest that users:
Give attribution to the Smithsonian.
Contribute back any modifications or improvements.
Do not mislead others or misrepresent the datasets or its sources.
Be responsible.
International media Interoperability Framework
IIIF provides researchers rich metadata and media viewing options for comparison of works across cultural heritage collections. Visit the IIIF page to learn more.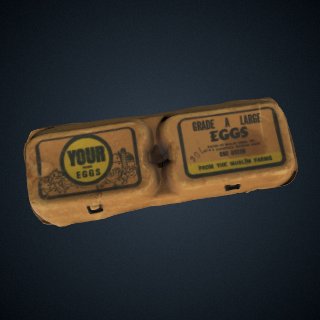 3D Model