Object Details
Description

Life on America's farms in the 1920s and 1930s meant hard work and frugal habits. Farm families were used to "making do" with what they had, wasting nothing that could be recycled or reused. With feed sacks and flour bags, farmwomen took thriftiness to new heights of creativity, transforming the humble bags into dresses, underwear, towels, curtains, quilts, and other household necessities.
By the 1940s the bag manufacturers were turning out bags in bright colors and printed designs. It was felt that these designs and colors would boost sales, because the woman of the house would always select the brand with the most attractive fabric. During World War II, there was a shortage of cotton fabric for the civilian population, and the recycling of bags became a necessity, encouraged by the government.
After the war, the bags were not only a sign of domestic thrift; they also gave rural women a sense of fashion. National sewing contests were organized as a way for women to show off their skills, and manufacturers to show off their designs. Women frequently sold their surplus bags to others as a way of picking up cash to aid in running the home.
This dress was made by Mrs. G. R. (Dorothy) Overall of Caldwell, Kansas, in 1959 for the Cotton Bag Sewing Contest sponsored by the National Cotton Council and the Textile Bag Manufactureres Association. The dress is made of cotton bag fabric, with an overall design of white flowers on a brown (originally black) ground. The dress is lined with black organdy, and machine quilted with a synthetic silver sewing thread. Mrs. Overall was awarded 2nd place in the Mid-South section of the contest.
See more items in

Cultural and Community Life: Textiles
Agriculture
Textiles

Exhibition

Girlhood

Exhibition Location

National Museum of American History
Date made

1959
ID Number

1992.0102.04

catalog number

1992.0102.04

accession number

1992.0102
Credit Line

Gift of Mrs. Dorothy Overall
maker

Overall, Mrs. Dorothy
subject

Costume
Place Made

United States: Kansas, Caldwell
Physical Description

cotton fabric and thread (overall material)
synthetic metallic thread (overall material)
plain weave; printed (overall production method/technique)

Measurements

overall, unmounted: 42 1/2 in x 25 in; 107.95 cm x 63.5 cm
overall, mounted: 41 in x 17 in x 15 in; 104.14 cm x 43.18 cm x 38.1 cm
Data Source

National Museum of American History
Object Name

dress, women
woman's dress

Object Type

Dress
Woman
Record ID

nmah_1105750
Metadata Usage

CC0
This image is in the public domain (free of copyright restrictions). You can copy, modify, and distribute this work without contacting the Smithsonian. For more information, visit the Smithsonian's
Open Access
page.
We also suggest that users:
Give attribution to the Smithsonian.
Contribute back any modifications or improvements.
Do not mislead others or misrepresent the datasets or its sources.
Be responsible.
International media Interoperability Framework
IIIF provides researchers rich metadata and media viewing options for comparison of works across cultural heritage collections. Visit the IIIF page to learn more.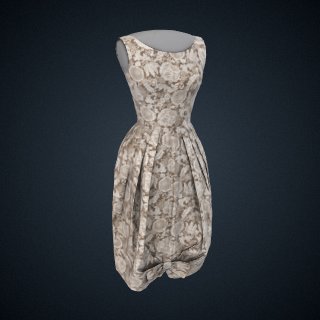 3D Model