Object Details
Description

This exercise suit, donated by Faith Bradford (1880-1970) in 1955, belonged to her mother Ellen Jane Knight Bradford (1839-1899). Ellen Jane Knight, known familiarly as "Nellie," was the niece of Massachusetts lieutenant governor Horatio Gates Knight, and lived in his household after her mother died. She graduated from Williston Seminary (now the Williston Northampton School), a co-educational academy, and taught music. In 1865 she married James Henry Bradford, who served as a chaplain in the Union Army before becoming a Congregational minister. They lived in various places in the northeast, usually pursuing work in education, and moved to Washington, D.C. in 1881. Ellen Bradford was educated and of a creative as well as Protestant reformist bent, publishing poems and hymns, serving as a correspondent for the paper The Congregationalist, and founding with her spouse the Industrial School for Girls in Middletown, Connecticut in 1868. In 1887 she became known for creating and directing a tableau based on the bestselling 1880 novel Ben Hur: A Tale of Christ to raise money for the homeopathetic hospital in Washington, D.C.
Bradford likely wore this exercise suit in the early 1860s, perhaps before she married. Such attire was adopted by some reform-minded, educated women of the middle and upper class (such as Bradford), mainly in the Northeastern U.S. as an alternative to long, heavy dresses underpinned by crinolines and tightly-laced corsets that typified women's fashion in the mid nineteenth century. Consisting of a dress or tunic over long pants, what became known as the Bloomer dress earned its name from temperance and women's rights activist Amelia Bloomer who donned and promoted it. It gained popularity in the 1850s but also drew the ire of critics who deemed the outfit unfeminine— "pants" for women—likely due in part to the public, activist behavior of some of its wearers. Yet reformers looking to improve American society, often focusing on individuals and their personal habits, championed the outfit as comfortable and beneficial to women's health, allowing for freedom of breath and movement. This exercise suit, made of wool, would have been suitable for calisthenics and other activities outdoors, an important tenet of health reform, perhaps even during the winter in Massachusetts, where Bradford lived. Although chiefly utilitarian, it includes some stylistic details.
See more items in

Cultural and Community Life: Costume
Clothing & Accessories

Exhibition

Girlhood

Exhibition Location

National Museum of American History
Date made

1855 - 1865
ID Number

CS.058323

catalog number

058323

accession number

205244
Credit Line

Faith Bradford
wearer

Bradford, Ellen Jane Knight
subject

Women's History
Women's Health
Reform
Fashion
Exercise
associated place

United States: Massachusetts, Easthampton
Measurements

part, bottom: 40 in x 28 in; 101.6 cm x 71.12 cm
part, inseam: 24 in; 60.96 cm
part, dress, flat: 48 in x 37 in; 121.92 cm x 93.98 cm
part, armpit to cuff: 18 in; 45.72 cm
Data Source

National Museum of American History
Object Name

Gymnasium Suit, 3-Piece

Other Terms

Gymnasium Suit, 3-Piece; Entire Body; Main Dress; Female; Exercise
Record ID

nmah_363781
Metadata Usage

CC0
This image is in the public domain (free of copyright restrictions). You can copy, modify, and distribute this work without contacting the Smithsonian. For more information, visit the Smithsonian's
Open Access
page.
We also suggest that users:
Give attribution to the Smithsonian.
Contribute back any modifications or improvements.
Do not mislead others or misrepresent the datasets or its sources.
Be responsible.
International media Interoperability Framework
IIIF provides researchers rich metadata and media viewing options for comparison of works across cultural heritage collections. Visit the IIIF page to learn more.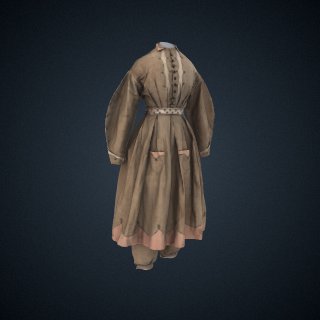 3D Model