Object Details
Summary

This hatch was the main crew hatch on "Columbia" (CM-107), the Command Module flown on the historic Apollo 11 lunar landing mission. The Apollo hatch had to provide a perfect seal for proper cabin pressurization, thermal protection during re-entry, and water-tight conditions during splashdown and recovery. An example of the "unified hatch" designed following the fatal Apollo 204 fire in January 1967, the Apollo 11 hatch covered the side opening in both the pressurized cabin and the external heat shield that covered the spacecraft.
The hatch was transferred to the Smithsonian Institution by the NASA Johnson Space Center in 1970.
Manufacturer

Rockwell International Corporation
Country of Origin

United States of America
Title

Hatch, Crew, Apollo 11
See more items in

National Air and Space Museum Collection

Location

National Air and Space Museum in Washington, DC

Exhibition

Destination Moon
Credit Line

Transferred from the NASA-Johnson Space Center
Data Source

National Air and Space Museum
Inventory Number

A19791810000
Type

SPACECRAFT-Crewed-Parts & Structural Components
Restrictions & Rights

Usage conditions apply
Materials

Metal, glass

Dimensions

Overall: 2 ft. 5 1/2 in. × 3 ft. 3 3/8 in. × 10 5/8 in., 129.7kg (75 × 100 × 27cm, 286lb.)
Other (Window): 10 5/8in. (27cm)
Support (Display stand (2017)): 25.9kg (57lb.)
Record ID

nasm_A19791810000
Metadata Usage

Not determined
This image is in the public domain (free of copyright restrictions). You can copy, modify, and distribute this work without contacting the Smithsonian. For more information, visit the Smithsonian's
Open Access
page.
We also suggest that users:
Give attribution to the Smithsonian.
Contribute back any modifications or improvements.
Do not mislead others or misrepresent the datasets or its sources.
Be responsible.
International media Interoperability Framework
IIIF provides researchers rich metadata and media viewing options for comparison of works across cultural heritage collections. Visit the IIIF page to learn more.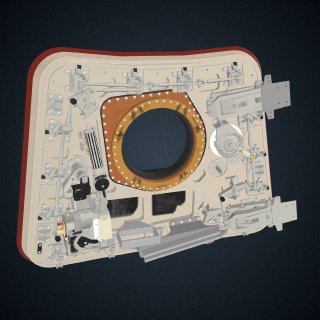 3D Model