Object Details
Previous custodian or owner

Jun Tsei Tai 戴潤齋 (1911-1992)
C.T. Loo 盧芹齋 (1880-1957)
Lu Wu Antiques Co. 盧吳古玩公司 (1911-ca. 1949)
C.T. Loo & Company (1914-1948)

Provenance

Before 1947
Jun Tsei Tai (1911-1992), Shanghai, China to February 1949 then New York, NY [1]
1947
Lu Wu Antiques Co., Shanghai, China purchased from Jun Tsei Tai in Shanghai [2]
February 1947
C. T. Loo & Company, New York, by transfer from Lu Wu Antiquities Co. in February 1947 in Shanghai, China [3]
From July 1947
Freer Gallery of Art, purchased from C. T. Loo & Company in July 1947 [4]
Notes:
[1] Jun Tsei Tai (more commonly known in the West as J. T. Tai), known also as Dai Fubao in Shanghai, was an incredibly successful art dealer who was initially based in Shanghai China. Tai became one of C. T. Loo's most prolific suppliers in the 1940s. In 1949, however, J. T. Tai fled with his family to Hong Kong, when Communist leaders came into power. In 1950, he immigrated to New York City, where he established J. T. Tai & Company, a successful company that specialized in the sale of Chinese arts.
See C. T. Loo's stock card no. NYL-7/982: "Bronze hill-censer on a wide spreading foot with three dragons in relief inlaid with gold, silver and various stones. Body decorated with bands of abstract motives in gold, silver with turquoise and rubies. Cover with fine rows of hills with hunting scenes, fighting animals and birds in gold, silver and hard stones inlaid, many stones missing Late Chou," copy in object file. The card states that this object came from J. T. Tai.
[2] Lu Wu was an export business that supplied C. T. Loo & Company, New York and Paris with Chinese objects. Loo formed this company in 1926. The name, Lu Wu combines the names of C. T. Loo and Wu Qi Zhou, Lu Wu's primary associates. The business acquired objects from across China, but everything passed through Shanghai before being sent to France. Zhou and Laio would send all acquisitions to Shanghai, where Wu packaged and shipped them to France. J. T. Tai (see note 1) began working with Lu Wu around 1938. Tai operated Fuyun zhai guwandian, a shop with a large inventory in Shanghai.
[3] See C. T. Loo & Company stock card cited in note 1.
[4] See C. T. Loo & Company invoice, date July 8, 1947, copy in object file.
Date

ca. 2nd century BCE

Period

Early Western Han dynasty
Origin

Henan or Hebei province, China
Topic

animal
landscape
Daoism
Western Han dynasty (206 BCE - 9 CE)
incense
China
Chinese Art
Related Online Resources

Google Cultural Institute

See more items in

Freer Gallery of Art and Arthur M. Sackler Gallery Collection

On View

Freer Gallery 18: Art and Industry: China's Ancient Houma Foundry
Credit Line

Purchase — Charles Lang Freer Endowment
Data Source

Freer Gallery of Art and Arthur M. Sackler Gallery
Accession Number

F1947.15a-b
Type

Vessel
Restrictions & Rights

CC0
Medium

Bronze with gold, silver, turquoise, and carnelian inlay

Dimensions

H x W: 17.9 x 10 cm (7 1/16 x 3 15/16 in)
Record ID

fsg_F1947.15a-b
Metadata Usage

CC0
This image is in the public domain (free of copyright restrictions). You can copy, modify, and distribute this work without contacting the Smithsonian. For more information, visit the Smithsonian's
Open Access
page.
We also suggest that users:
Give attribution to the Smithsonian.
Contribute back any modifications or improvements.
Do not mislead others or misrepresent the datasets or its sources.
Be responsible.
International media Interoperability Framework
IIIF provides researchers rich metadata and media viewing options for comparison of works across cultural heritage collections. Visit the IIIF page to learn more.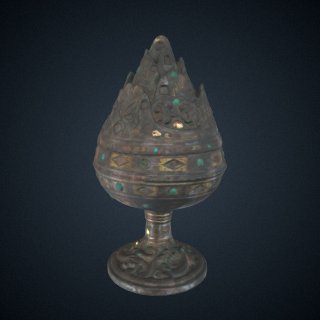 3D Model