Object Details
Gallery Label

This plaster cast is as close as we can get to Powers' "original" Greek Slave. It was made in the artist's studio directly from Powers' clay model and records the date "March 12, 1843," when the sculptor proclaimed he finished modeling his masterpiece in clay. Powers carefully sculpted the body but did minimal work on the locket, cross, and drapery, since it was more efficient to refer to real examples of these objects when carving these elements in marble. Similarly, Powers did not lose time modeling the chains that were so important to the sculpture's narrative. Instead, he attached real metal chains, which scraped into the plaster figure's right thigh.
This plaster was the reference prototype for several of the full-scale marble replicas of the Greek Slave. Between 1844 and 1869, professional carvers working under Powers' direction mechanically reproduced six full-scale marble replicas of the Greek Slave for private patrons. Each one is nearly identical to this plaster except for variations in the drapery, chains, and other details and each is considered to be an original work of art. The carvers used a pointing machine, similar to the one displayed in this exhibition, to precisely measure the location of metal studs and graphite "x" marks that appear on the surface of this plaster and transfer these registration marks to corresponding locations on the block of marble being carved.

Exhibition Label

Hiram Powers (1805-73) was among the first American sculptors to establish an international reputation, rising to fame in the late 1840s with his Greek Slave, a life-size marble sculpture of a chained, nude woman. Few could have predicted Powers' incredible success from his humble beginnings on a farm in Ohio or his time in Washington, DC, where he made somber plaster portraits of four early presidents and other luminaries. Powers moved to Florence, Italy, with his wife and young children in 1837, lured there by its abundance of fine marble and highly skilled stone carvers. He quickly realized there was much to gain from making ideal compositions of nude figures drawn from literary, biblical, and historical themes. Powers set up a studio dividing labor among several assistants and, using the latest technologies such as the pointing machine, to create numerous replicas of his most popular designs in marble. Although he always intended to return to the United States, Powers remained abroad until his death and became an unofficial ambassador for American culture. He was a central figure in the expatriate colony in Florence, where he masterfully marketed his work to British nobles and American collectors touring Europe.
Greek Slave became the most famous sculpture of the nineteenth century and propelled the artist, Hiram Powers (1805-73), to international stardom. The work was so provocatively lifelike that certain exhibition venues in the United States required that men and women view the sculpture separately. Powers justified the sculpture's full nudity by claiming his work depicted historic events: a Greek woman, captured by Ottoman forces during the War of Independence, had been stripped and chained for sale at a slave market in Constantinople. American viewers in the 1840s and '50s, many of whom had never before seen a sculpture of a nude woman, felt licensed to admire the Greek Slave because she was "clothed all over with sentiment." Powers encouraged this interpretation of his work and indicated his subject's modesty by turning the figure's gaze demurely downward and including a cross and locket as symbols of Christian piety and faithfulness to a remembered loved one. The Greek Slave was almost immediately associated with slavery in the United States, where abolitionists used images of it to promote their cause. Powers produced six full-scale marble examples of the Greek Slave, each considered an original work of art. Much to Powers' dismay, the sculpture became so popular that countless unauthorized imitations of Greek Slave were also made.
Date

1843
Artist

Hiram Powers, born Woodstock, VT 1805-died Florence, Italy 1873
Topic

Figure female\full length
State of being\evil\imprisonment
History\ancient\Greece
State of being\other\enslaved
See more items in

Smithsonian American Art Museum Collection

Department

Painting and Sculpture

On View

Smithsonian American Art Museum, Luce Foundation Center, 3rd Floor, 18A
Smithsonian American Art Museum, Luce Foundation Center
Smithsonian American Art Museum, Luce Foundation Center, 3rd Floor
Credit Line

Smithsonian American Art Museum, Museum purchase in memory of Ralph Cross Johnson
Data Source

Smithsonian American Art Museum
Object number

1968.155.8
Type

Sculpture
Restrictions & Rights

CC0
Medium

plaster and metal pins

Dimensions

66 3/8 x 21 1/2 x 18 3/8 in. (168.6 x 54.6 x 46.6 cm)
Record ID

saam_1968.155.8
Metadata Usage

CC0
This image is in the public domain (free of copyright restrictions). You can copy, modify, and distribute this work without contacting the Smithsonian. For more information, visit the Smithsonian's
Open Access
page.
We also suggest that users:
Give attribution to the Smithsonian.
Contribute back any modifications or improvements.
Do not mislead others or misrepresent the datasets or its sources.
Be responsible.
International media Interoperability Framework
IIIF provides researchers rich metadata and media viewing options for comparison of works across cultural heritage collections. Visit the IIIF page to learn more.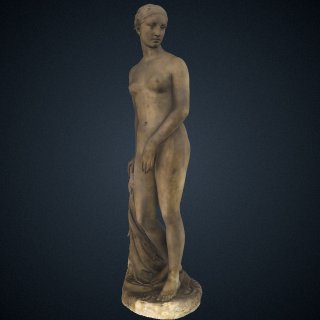 3D Model