Object Details
Description

Alfred Vail made this key, believed to be from the first Baltimore-Washington telegraph line, as an improvement on Samuel Morse's original transmitter. Vail helped Morse develop a practical system for sending and receiving coded electrical signals over a wire, which was successfully demonstrated in 1844.
Morse's telegraph marked the arrival of instant long-distance communication in America. The revolutionary technology excited the public imagination, inspiring predictions that the telegraph would bring about economic prosperity, national unity, and even world peace.
Date made

1844

used date

1844
demonstrator

Morse, Samuel Finley Breese
Vail, Alfred

maker

Vail, Alfred
Morse, Samuel Finley Breese
Place Made

United States: New Jersey, Morristown

used

United States: Maryland, Baltimore
United States: District of Columbia, Washington
See more items in

Work and Industry: Electricity
Government, Politics, and Reform
Engineering, Building, and Architecture
Work
Communications
Computers & Business Machines
Industry & Manufacturing
American Enterprise
National Treasures exhibit
Artifact Walls exhibit

Exhibition

American Enterprise

Exhibition Location

National Museum of American History
Related Publication

Kendrick, Kathleen M. and Peter C. Liebhold. Smithsonian Treasures of American History
National Museum of American History. Treasures of American History online exhibition

Related Web Publication

http://americanhistory.si.edu/treasures
Credit Line

from Western Union Telegraph Co.
Data Source

National Museum of American History
ID Number

EM.181411

catalog number

181411

accession number

31652
Object Name

telegraph transmitter
telegraph key
Physical Description

wood (overall material)
brass (overall material)

Measurements

overall: 3 in x 2 in x 6 3/4 in; 7.62 cm x 5.08 cm x 17.145 cm
Record ID

nmah_1096762
Metadata Usage

CC0
This image is in the public domain (free of copyright restrictions). You can copy, modify, and distribute this work without contacting the Smithsonian. For more information, visit the Smithsonian's
Open Access
page.
We also suggest that users:
Give attribution to the Smithsonian.
Contribute back any modifications or improvements.
Do not mislead others or misrepresent the datasets or its sources.
Be responsible.
International media Interoperability Framework
IIIF provides researchers rich metadata and media viewing options for comparison of works across cultural heritage collections. Visit the IIIF page to learn more.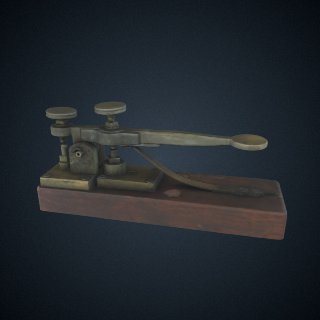 3D Model