Object Details
Description

New York Mets baseball jersey worn by pitcher Pedro Martinez.
Right-handed pitcher Pedro Martinez (b. 1971) played Major League Baseball for the Los Angeles Dodgers (1992-1993,) Montreal Expos (1994-1997,) Boston Red Sox (1998-2004,) New York Mets (2005-2008,) and Philadelphia Phillies (2009.) The native of the Dominican Republic was an 8-time All-Star and 3-time Cy Young Award Winner. In 2004 Martinez helped lead the Red Sox to their first World Series title since 1918.
Martinez attained a career 219-100 Win-Loss record along with a lifetime 2.93 earned run average and 3,154 strikeouts. He has had his number retired by the Red Sox, and was elected to the National Baseball Hall of Fame in 2015.

Location

Currently not on view
date made

2005-2008
Associated Name

Martinez, Pedro
New York Mets

maker

Majestic Athletic, Ltd.
place made

United States: Pennsylvania, Easton

Associated Place

Dominican Republic
subject

Baseball
Sports
Latinos and Baseball
See more items in

Culture and the Arts: Sport and Leisure
Sports & Leisure
Data Source

National Museum of American History
ID Number

2017.0334.13

catalog number

2017.0334.13

accession number

2017.0334
Object Name

baseball jersey
jersey
shirt
jersey, baseball
Physical Description

cotton (overall material)

Measurements

overall: 35 in x 36 in; 88.9 cm x 91.44 cm
Record ID

nmah_1864497
Metadata Usage

CC0
There are restrictions for re-using this image. For more information, visit the Smithsonian's
Terms of Use
page .
These files consist of 3D scans of historical objects in the collections of the Smithsonian and may be downloaded by you only for non-commercial, educational, and personal uses subject to this disclaimer (https://3d.si.edu/disclaimer) and in accordance with the Terms of Use (https://3d.si.edu/termsofuse).
International media Interoperability Framework
IIIF provides researchers rich metadata and media viewing options for comparison of works across cultural heritage collections. Visit the IIIF page to learn more.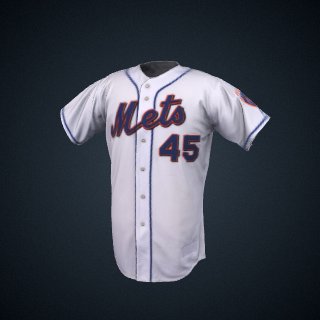 3D Model