Object Details
See more items in

Cultural and Community Life: Sport and Leisure
Sports & Leisure

Exhibition

¡Pleibol!

Exhibition Location

National Museum of American History
date made

2005-2008
ID Number

2017.0334.13

catalog number

2017.0334.13

accession number

2017.0334
Associated Name

Martinez, Pedro
New York Mets

maker

Majestic Athletic, Ltd.
subject

Baseball
place made

United States: Pennsylvania, Easton
Physical Description

cotton (overall material)

Measurements

overall: 35 in x 36 in; 88.9 cm x 91.44 cm
Data Source

National Museum of American History
Object Name

baseball jersey
jersey
shirt
jersey, baseball
Record ID

nmah_1864497
Metadata Usage

CC0
There are restrictions for re-using this image. For more information, visit the Smithsonian's
Terms of Use
page .
These files consist of 3D scans of historical objects in the collections of the Smithsonian and may be downloaded by you only for non-commercial, educational, and personal uses subject to this disclaimer (https://3d.si.edu/disclaimer) and in accordance with the Terms of Use (https://3d.si.edu/termsofuse).
International media Interoperability Framework
IIIF provides researchers rich metadata and media viewing options for comparison of works across cultural heritage collections. Visit the IIIF page to learn more.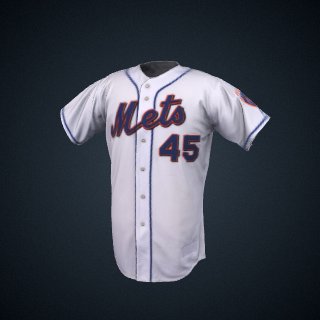 3D Model