Object Details
Description

A pair of men's boudoir slippers in a stars and stripes design attributed to Elizabeth Keckley. The slippers were likely commissioned by Mrs. Gideon Welles to be presented to her husband, Hon. Gideon Welles, Secretary of the Navy under President Lincoln. The slippers are crocheted in stripes of red and white from the toe to the heel. Across the top of the vamp is a blue band embroidered with scattered white stars. The throat of the slippers is edged in a twisted blue and red cord. The slippers have a flat, leather sole and a squarish toe.
Date

ca. 1865
Attributed to

Elizabeth Hobbs Keckley, American, 1818 - 1907

Owned by

Gideon Welles, American, 1802 - 1878
Place made

United States, North and Central America
Topic

African American
Business
Clothing and dress
Craftsmanship
Free communities of color
Politics
Slavery
U.S. History, Civil War, 1861-1865
See more items in

National Museum of African American History and Culture Collection

Classification

Clothing-Historical
Credit Line

Collection of the Smithsonian National Museum of African American History and Culture
Data Source

National Museum of African American History and Culture
Object number

2018.35.2.1ab
Type

slippers
Restrictions & Rights

No Known Copyright Restrictions
Proper usage is the responsibility of the user.
Medium

fiber , leather and thread

Dimensions

L x W: 10 1/4 × 3 in. (26 × 7.6 cm)
Record ID

nmaahc_2018.35.2.1ab
Metadata Usage

CC0
This image is in the public domain (free of copyright restrictions). You can copy, modify, and distribute this work without contacting the Smithsonian. For more information, visit the Smithsonian's
Open Access
page.
We also suggest that users:
Give attribution to the Smithsonian.
Contribute back any modifications or improvements.
Do not mislead others or misrepresent the datasets or its sources.
Be responsible.
International media Interoperability Framework
IIIF provides researchers rich metadata and media viewing options for comparison of works across cultural heritage collections. Visit the IIIF page to learn more.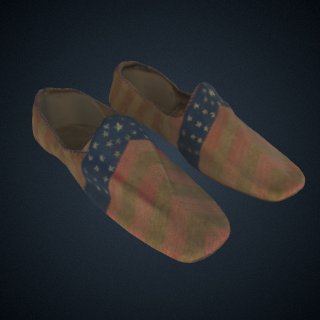 3D Model