Object Details
Geologic Age

Cenozoic - Paleogene - Eocene - Wasatchian

Record Last Modified

10 Jun 2021

Skeletal Morphology

Complete skull and skeleton

Stratigraphy

Green River Fm - Fossil Butte Mbr
Collection Date

1981
See more items in

Paleogeneral
Types: Birds
Aves Primary Type
Paleobiology
USNM Number

PAL336278
Published Name

Prefica nivea Olson
Place

Lincoln County, Wyoming, United States, North America
Data Source

NMNH - Paleobiology Dept.
Taxonomy

Animalia Chordata Vertebrata Aves Caprimulgiformes Nyctibiidae
Type Citation

Olson. 1987. Docum.Lab.Geol.Fac.Sci.Lyon. (n.99): 59, pl.1-3,meas.

Type Status

holotype
Record ID

nmnhpaleobiology_3368446
Metadata Usage

CC0
There are restrictions for re-using this image. For more information, visit the Smithsonian's
Terms of Use
page .
These files consist of 3D scans of historical objects in the collections of the Smithsonian and may be downloaded by you only for non-commercial, educational, and personal uses subject to this disclaimer (https://3d.si.edu/disclaimer) and in accordance with the Terms of Use (https://3d.si.edu/termsofuse).
International media Interoperability Framework
IIIF provides researchers rich metadata and media viewing options for comparison of works across cultural heritage collections. Visit the IIIF page to learn more.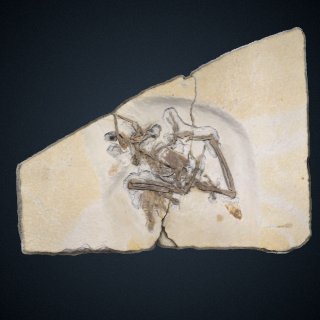 3D Model