Object Details
Description

From doo-wop and country blues, to polka and hip-hop, Tejano music is made by borderland musicians forced to understand the value of cultural exchange. Performing a fusion of cumbia, pop, and contemporary Tejano music, Selena Quintanilla-Pérez (1971–1995) was a young star whose rise and hard-won fame in the United States and Latin American markets was cut short at age 23, when she was murdered by a business manager fired for stealing. Selena was a commercial success in ways unimaginable for her more rootsy predecessors like Flaco Jiménez, Freddy Fender, or Little Joe. This outfit, with its leather boots, tight pants, a satin bustier, and a motorcycle jacket, is an example of Selena's idiosyncratic style, wavering between sexy rebel and Mexican American good girl. Hailing from Lake Jackson, Texas, Selena was born into a family of musicians. Because she grew up speaking English, she had to learn to sing Spanish phonetically on her early albums that targeted the Spanish-speaking market. Ironically, her "cross-over" material for English-language radio was not released until the end of her career, shortly after her tragic death. Selena, who spent her childhood in her family's band entertaining crowds at weddings, restaurants, fairs, and other modest venues along the U.S.-Mexico border, remains enshrined in the memory of many as one of the greatest stars of Tejano music.

Description (Spanish)

Desde el doo-wop y el country blues, hasta la polka y el hip-hop, los compositores de música tejana se han visto forzados por la frontera a entender el valor del intercambio cultural. La cantante Selena Quintanilla-Pérez (1971-1995) interpretaba una fusión de cumbia, pop y música tejana contemporánea. La joven estrella surgió y a duras penas llegó a la fama en los mercados de Estados Unidos y Latinoamérica, pero su carrera quedó truncada a la edad de 23 años, cuando fue asesinada por una ex manager a quien había despedido por robar. Selena fue un éxito comercial de un modo jamás imaginable por sus predecesores más tradicionales como el Flaco Jiménez, Freddy Fender o Little Joe. Este traje, integrado por botas de cuero, pantalones ajustados, corsé de raso y chaqueta de motociclista, ejemplifica la idiosincrasia de un estilo que oscilaba entre la rebelde sexy y la niña buena mexicoamericana. Procedente de Lake Jackson, Texas, Selena nació en el seno de una familia de músicos. Como creció hablando inglés, debió aprender a cantar en español por fonética para grabar sus primeros álbumes dirigidos al mercado de habla hispana. Irónicamente, su material crossover para la radio en inglés no salió al aire hasta el final de su carrera, poco después de su trágica muerte. Selena, quien pasó su niñez en medio de la banda de música familiar, actuando en celebraciones de bodas, restaurantes, ferias y otros modestos escenarios a lo largo de la frontera entre México y Estados Unidos, vive aún consagrada en la memoria de la gente como una de las grandes estrellas de la música tejana.
See more items in

Cultural and Community Life: Entertainment
Mexican America
Music & Musical Instruments
Popular Entertainment
ID Number

1999.0104.01

accession number

1999.0104

catalog number

1999.0104.01
Credit Line

Gift of The Quintanilla Family
wearer

Selena

maker

North Beach
subject

Latino
Costume
Music
Place Made

China: Hong Kong
Title (Spanish)

Traje de Cuero de Selena
Physical Description

glass (beads material)
leather (overall material)
metal (zippers; buckle; beads material)

Measurements

overall: 25 in x 17 in; 63.5 cm x 43.2501 cm
Data Source

National Museum of American History
Object Name

jacket
Record ID

nmah_1289214
Metadata Usage

CC0
There are restrictions for re-using this image. For more information, visit the Smithsonian's
Terms of Use
page .
These files consist of 3D scans of historical objects in the collections of the Smithsonian and may be downloaded by you only for non-commercial, educational, and personal uses subject to this disclaimer (https://3d.si.edu/disclaimer) and in accordance with the Terms of Use (https://3d.si.edu/termsofuse).
International media Interoperability Framework
IIIF provides researchers rich metadata and media viewing options for comparison of works across cultural heritage collections. Visit the IIIF page to learn more.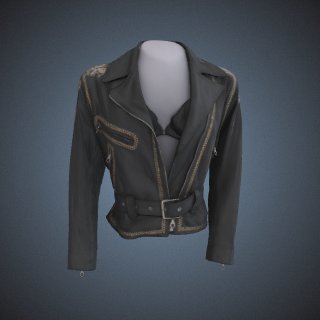 3D Model