Object Details
Description

Elaborately carved and painted side chair. Back composed of crossed cornucopia, from which spring almost at right angles griffins and heads, holding between them an umbrella shaped canopy, with foliated stem of trumpet flowers, in false Chinese taste; surface is painted in buff, red, green, and blue. The rounded tapering legs curve inwards in the middle but splay out towards the feet; above the finely tapered feet, are carved acanthus leaves. Top of legs have square capitols carved with acanthus leaves and berries.
See more items in

Cooper Hewitt, Smithsonian Design Museum Collection
Product Design and Decorative Arts Department
Date

ca. 1785
Accession Number

1924-6-1
Credit Line

Gift of the Countess Costantini
Style of

Michel Angelo Pergolesi, Italian, active ca. 1760–1801
made in

Northern Italy
Medium

Carved, polychromed, gilt wood

Dimensions

H x W x D: 100 x 46.5 x 41.5 cm (39 3/8 x 18 5/16 x 16 5/16 in.)
Data Source

Cooper Hewitt, Smithsonian Design Museum
Restrictions & Rights

CC0
Type

furniture
Decorative Arts
Side Chair
Record ID

chndm_1924-6-1
Metadata Usage

CC0
This image is in the public domain (free of copyright restrictions). You can copy, modify, and distribute this work without contacting the Smithsonian. For more information, visit the Smithsonian's
Open Access
page.
We also suggest that users:
Give attribution to the Smithsonian.
Contribute back any modifications or improvements.
Do not mislead others or misrepresent the datasets or its sources.
Be responsible.
International media Interoperability Framework
IIIF provides researchers rich metadata and media viewing options for comparison of works across cultural heritage collections. Visit the IIIF page to learn more.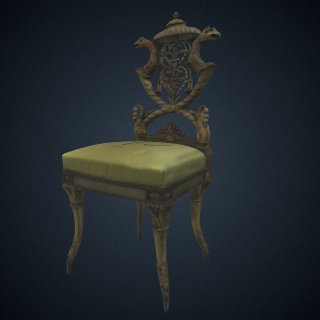 3D Model