Object Details
Description (Brief)

Team jersey worn by professional female skateboarder, Cindy Whitehead while a member of the Sims skateboard team in the late 1970s and early 1980s. Whitehead was won of the few female vert skaters of the day and was the only woman on the Sims team at the time.
Whitehead began skateboarding at age 15 and had turned pro by the time she was 17, something girls were not doing in the mid-1970s. She became one of the only girls skating both pool and half pipe and is the only girl ever to be featured in a two page article with a centerfold in a skateboarding magazine. Whitehead retired from skateboarding at 22 but still skates and has remained in the sports arena as a sport stylist, a job title she also created. Whitehead is especially supportive of young female skaters through her "Girl Is Not A 4 Letter Word" skate team and her products which are geared towards women and girls. Whitehead's signature phrase printed in gold on many of the "Girl Is Not A 4 Letter Word" products personifies her independent spirit, "Live life balls to the wall. Do epic shit. Take every dare that comes your way. You can sleep when you're dead."
See more items in

Cultural and Community Life: Sport and Leisure

Exhibition

Girlhood

Exhibition Location

National Museum of American History
date made

1970s
1976

used date

1976-1980
ID Number

2013.0165.01

accession number

2013.0165

catalog number

2013.0165.01
user

Whitehead, Cindy
subject

skateboarding
Sports
Professional
Women
Physical Description

fabric, nylon (overall material)
fabric, cotton (overall material)

Measurements

overall: 28 in x 17 1/2 in; 71.12 cm x 44.45 cm
overall; overall, mounted: 31 in x 19 in x 12 in; 78.74 cm x 48.26 cm x 30.48 cm
Data Source

National Museum of American History
Object Name

jersey, skateboarding
skate jersey
Record ID

nmah_1449492
Metadata Usage

CC0
There are restrictions for re-using this image. For more information, visit the Smithsonian's
Terms of Use
page .
These files consist of 3D scans of historical objects in the collections of the Smithsonian and may be downloaded by you only for non-commercial, educational, and personal uses subject to this disclaimer (https://3d.si.edu/disclaimer) and in accordance with the Terms of Use (https://3d.si.edu/termsofuse).
International media Interoperability Framework
IIIF provides researchers rich metadata and media viewing options for comparison of works across cultural heritage collections. Visit the IIIF page to learn more.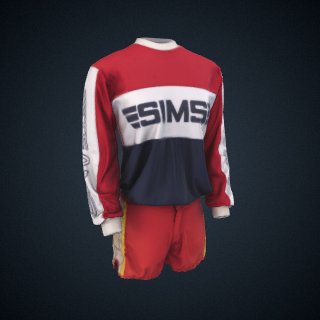 3D Model