Object Details
Notes

From card: "Illus.: Brose, David S. 1985. Ancient Art of the American Woodland Indians; Pl. 75, p. 107. Identified there as kneeling feline figure; wood, h. 15.1 cm, Calusa culture, Late Mississippian period, A.D. 1400-1500. Lent to Detroit Institute of Arts, 1-29-85, returned 3-17-86. Lent to National Gallery of Art, 8-28-91, loan returned 2/4/92." Illus. Pl. 38, p. 112 in Russell, Karen Kramer. 2012. Shapeshifting: transformations in Native American art. New Haven, Conn: Yale University Press. Identified there on p. 113 as a human-feline effigy, 700-1500 AD, carved by a Southeastern artist. "... [It] was carved using shell scrapers and a shark's tooth (apparent from the smooth sweeping lines and clean edges), and rubbed with a protective layer of animal fat. Panthers, indigenous to what is now Florida, would likely have inspired Native artists to create their likeness. Additionally, Native people of Southeastern North America, among others, have in their oral histories the concept of a world order kept in balance by Underwater Panthers who rule the watery Lower World and Thunderbirds who rule the Upper World. ... Archaeologists consider this figure to be stylistically distinct from all other regions. ... It is unknown who the inhabitants of Key Marco were in 700. Some scholars suggest this effigy may have been carved by someone associated with the Southeastern Ceremonial Complex. By historic contact times, however, this region was part of the greater Calusa domain and, as such, the carving was possibly made by a Calusa artist." Reference: Bell, Austin J. 2021. Nine Lives of Florida's Famous Key Marco Cat. University Press of Florida.
Cat is carved from a dense native tropic hardwood, species unidentified. It was carved by the Calusa or their Muspa predecessors.
Cat figure on loan to Marco Island Historical Museum Nov. 2018 - April 2026.

Record Last Modified

7 Jul 2022

Specimen Count

1
Accession Date

1 Apr 1908
Collector

Frank H. Cushing

Donor Name

Bureau Of American Ethnology

Site Name

Key Marco
Place

Collier County, Florida, United States, North America
Topic

Archaeology
See more items in

Anthropology
Data Source

NMNH - Anthropology Dept.
Accession Number

048531

USNM Number

A240915-0
Object Type

Figure
Height - Object

15 cm

Width - Object

4 cm

Length - Object

6.5 cm
Record ID

nmnhanthropology_8061963
Metadata Usage

CC0
There are restrictions for re-using this image. For more information, visit the Smithsonian's
Terms of Use
page .
The 3D scan of this object was captured and modeled by the University of South Florida Center for Digital Heritage and Geospatial Information.
These files consist of 3D scans of historical objects in the collections of the Smithsonian and may be downloaded by you only for non-commercial, educational, and personal uses subject to this disclaimer (https://3d.si.edu/disclaimer) and in accordance with the Terms of Use (https://3d.si.edu/termsofuse).
International media Interoperability Framework
IIIF provides researchers rich metadata and media viewing options for comparison of works across cultural heritage collections. Visit the IIIF page to learn more.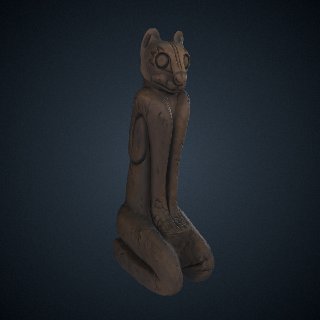 3D Model