Object Details
Description

Vase, baluster type, sometimes called a "yen-yen" vase. Long neck with trumpet mouth, swelling body which narrows to a slightly flaring base rolling neatly to a wedge-shaped foot rim, set in, possibly designed as in other porcelains of the period, to fit a stand. This is a typical Kangxi silhouette. Although there is no reign mark, it can be assigned to the Kangxi period.
Clay: fine white porcelain.
Glaze: transparent,glossy, some pin holes, inclusions of impurities, bare foot-rim, base glazed with underglaze blue double ring.
Decoration: painted in brilliant underglaze cobalt blue in outline and wash. Simple paired cloud forms in bands below lip and above foot. On neck two spotted deer in a rocky landscape of pines, cranes, and clouds. On body, a similar landscape in larger scale. Here the stag is approaching a doe.
Wood stand, not previously recorded.

Previous custodian or owner

S.N. Ferris Luboshez (1896-1984)
Trocadéro, Kenny & Higgins Asian Art, Inc.

Provenance

S. N. Ferris Luboshez (1896-1984) [1]
To 1985
Trocadéro, Kenny & Higgins Asian Art, Inc., Washington, DC, to 1985
From 1985
Freer Gallery of Art, purchased from Trocadéro, Kenny & Higgins Asian Art, Inc. in 1985 [2]
Notes:
[1] According to information in the object record.
[2] Transferred from the Freer Study Collection (FSC-P-3448) to the Permanent Collection on November 14, 1986.
Date

1662-1722

Period

Qing dynasty
Origin

Jingdezhen, Jiangxi province, China
Topic

landscape
crane
Jingdezhen ware
deer
Qing dynasty (1644 - 1911)
cloud
cobalt pigment
China
porcelain
Chinese Art
Related Online Resources

Google Cultural Institute

See more items in

Freer Gallery of Art and Arthur M. Sackler Gallery Collection
Credit Line

Purchase — funds provided by the Women's Committee of the Smithsonian Associates
Data Source

Freer Gallery of Art and Arthur M. Sackler Gallery
Accession Number

F1986.4a-b
Type

Vessel
Restrictions & Rights

Usage conditions apply
Medium

Porcelain with cobalt pigment under clear glaze

Dimensions

H x Diam: 46.1 × 20.8 cm (18 1/8 × 8 3/16 in)

Style

Jingdezhen ware
Record ID

fsg_F1986.4a-b
Metadata Usage

Usage conditions apply
There are restrictions for re-using this image. For more information, visit the Smithsonian's
Terms of Use
page .
These files consist of 3D scans of historical objects in the collections of the Smithsonian and may be downloaded by you only for non-commercial, educational, and personal uses subject to this disclaimer (https://3d.si.edu/disclaimer) and in accordance with the Terms of Use (https://3d.si.edu/termsofuse).
International media Interoperability Framework
IIIF provides researchers rich metadata and media viewing options for comparison of works across cultural heritage collections. Visit the IIIF page to learn more.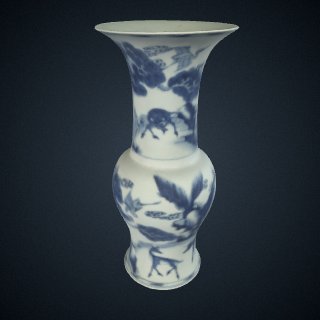 3D Model